Guangxi In-Depth Tour
Time: 2019-10-30
After a month of our wedding, my husband and I finally got the time to take a holiday in mid-October. The weather in Zhengzhou was a little cold and hazy in October, and I prefer to go somewhere warmer, with beautiful scenery and relaxing atmosphere. So, we chose Guangxi as our honeymoon place.
The flight from Zhengzhou to Guilin is very cheap at this season, and it takes only 2 hours. The weather in Guilin on our arrival day was cloudy, and drizzled, but it didn't affect our excited mood to enjoy the trip. Our hotel in Guilin is located just besides the Li River, and it takes just 10 minutes walk to the most famous and bustling street in this city---The Dongxi Alley(东西巷). We had the local rice noodles as our lunch.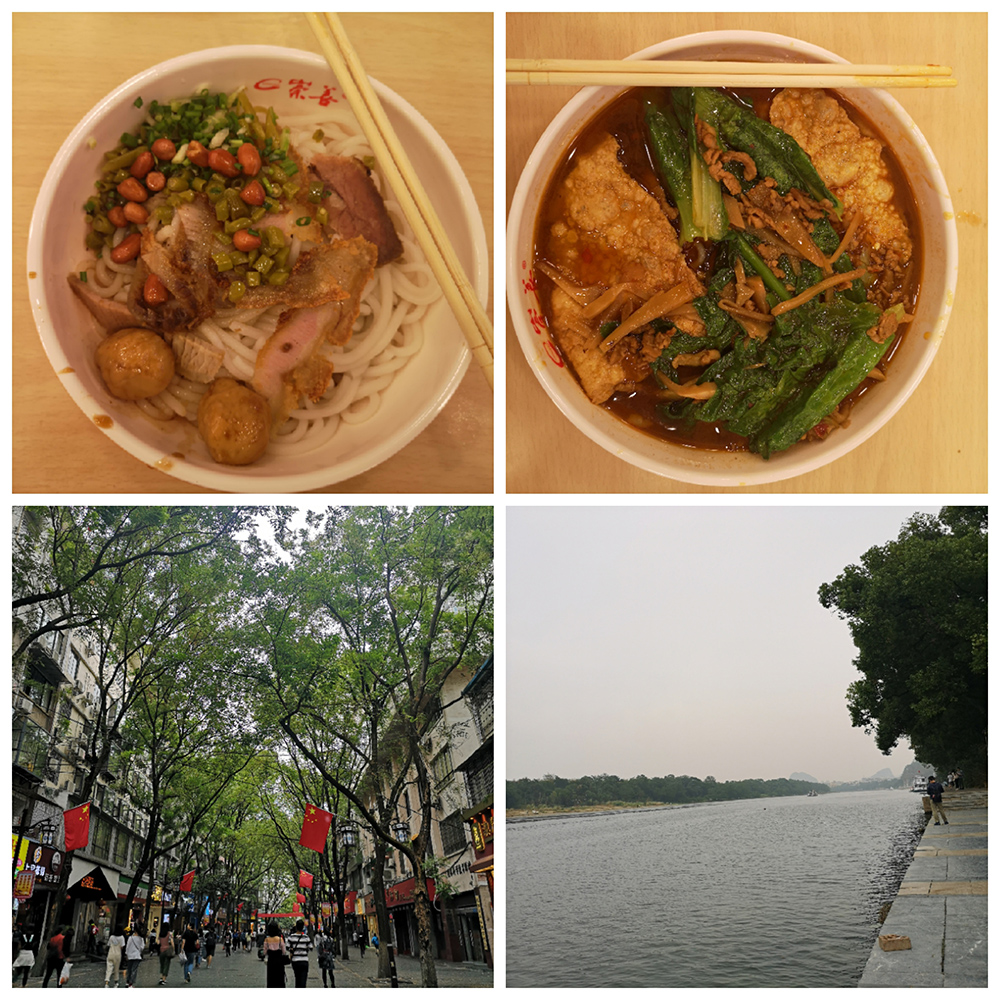 Next day, we took a cruise on Li River(漓江) from Guilin to Yangshuo. During the cruise, you can see the most essential sights of Li River. The most famous one must be the scenery which is printed on the paper currency of CNY20. It takes about 4 hours for the boat to arrive Yangshuo.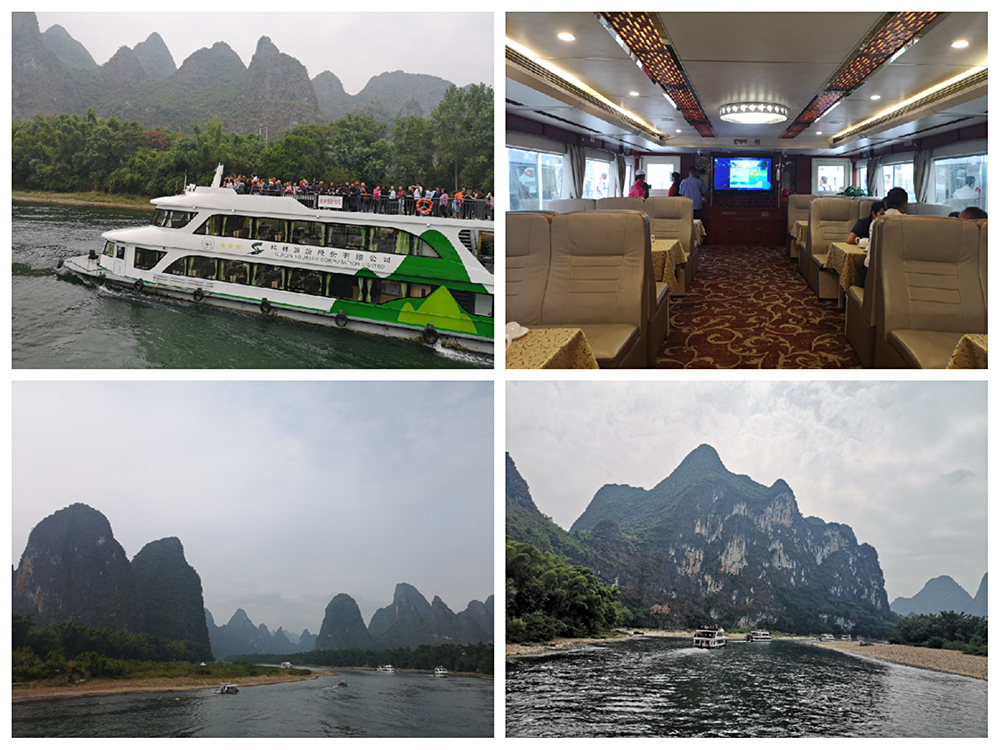 We visited the West Street(西街) in the evening. It was bustling and crowded as always, but a nice place to have some fun at night.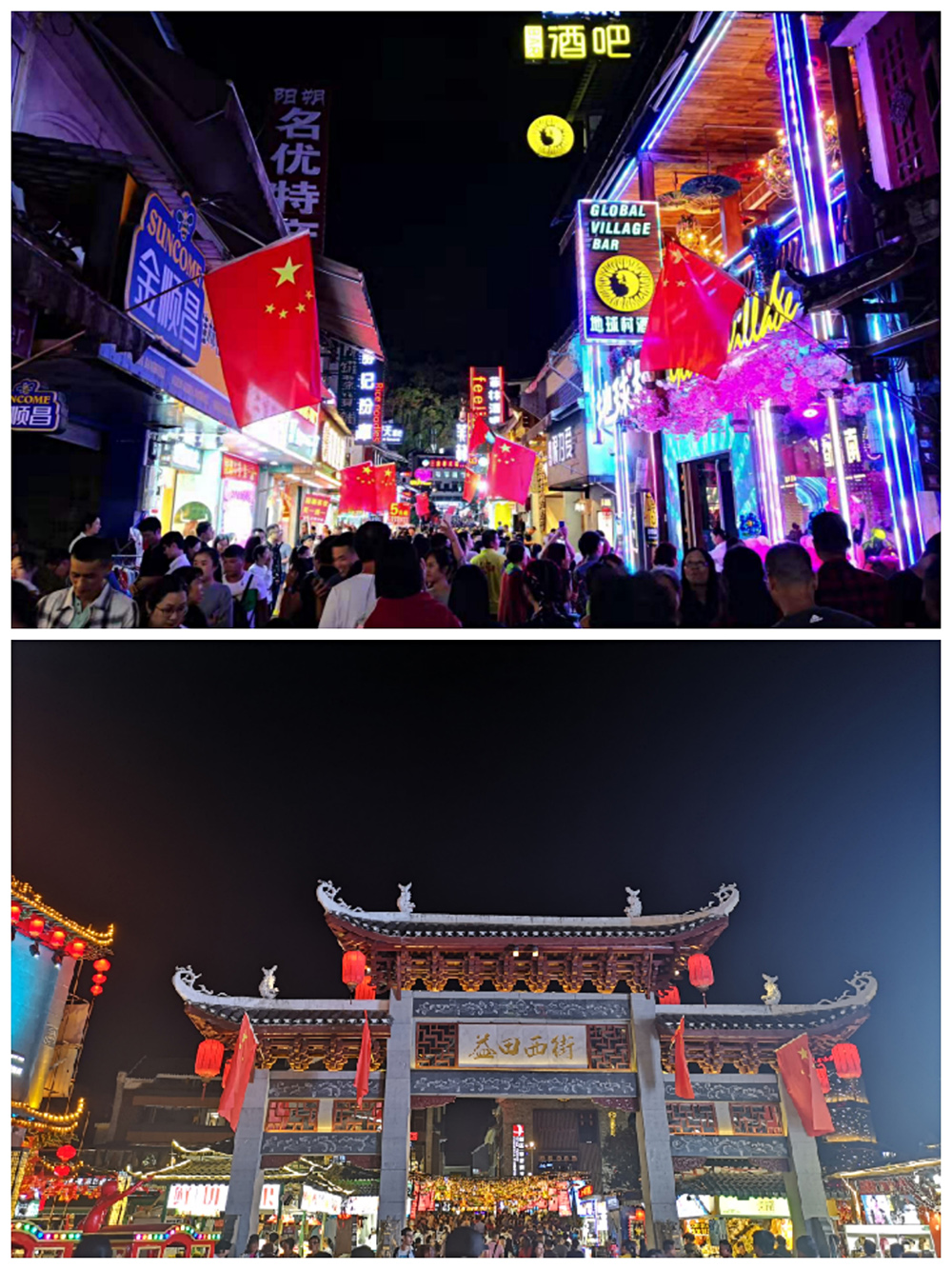 We rent an electric-bike as our transportation in Yangshuo. It was so nice to ride across the mountains, villages and bridges, with the sweet scented osmanthus fragrance all along the way. A bamboo rafting on Yulong River(遇龙河) is highly recommended, and it will give you a totally different experience from the Li River cruise from Guilin to Yangshuo. The bamboo rafting will be quieter, and it seems we are walking in a scenic picture!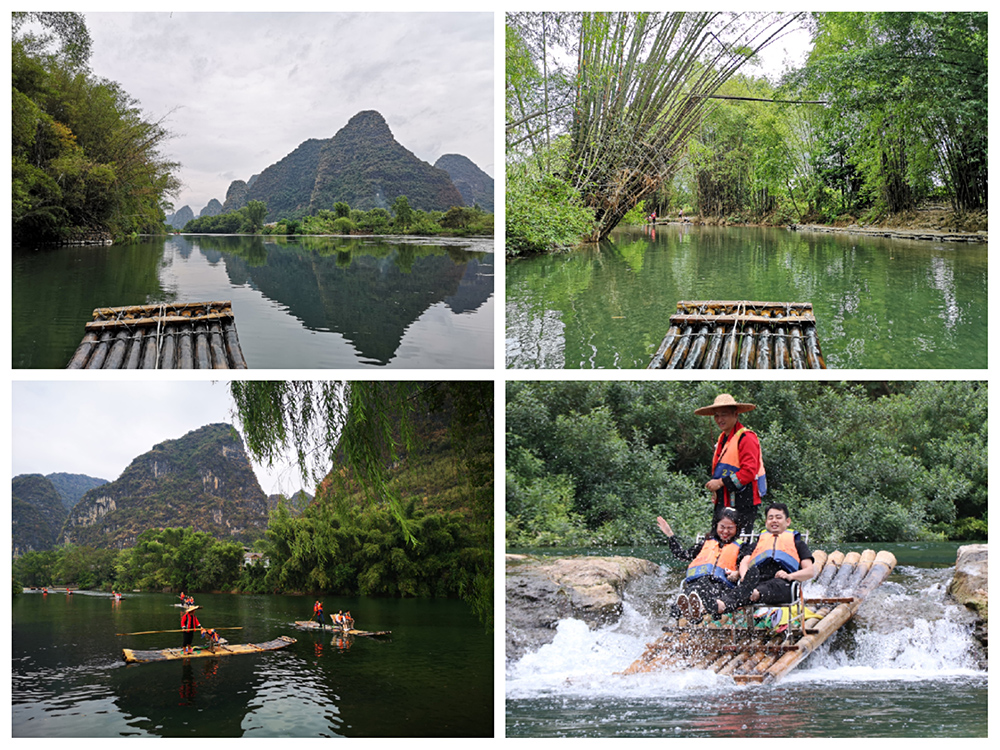 Hiking up to the top of the Moon Hill(月亮山) will take about half an hour, and the view from the top is spectacular.
We also spend an afternoon to the Xianggong Mountain(相公山). It is a little far so you will need a car to get there. There is an observation platform on the top and it is the best place to enjoy the view of Li River.
The next stop of our holiday is PingAn Terraced Fields(平安梯田). Our hotel is located in the village, on the halfway to the mountain. There are many stairs on the way, so it is not easy for you to go there with your suitcase. The good news is that there are many locals there to help. They will charge 30-50RMB/suitcase according to the size and weight. You may wonder how they manage to carry such heavy things going through the stairs at that old age. Trust me, they walk even faster than you even carrying your suitcase! I was so surprised!
We were very lucky to arrive PingAn just two days before the gloden rice was harvested. When the sun came out, the mist disappered, and the terraced fields showed its face. Thousands of layouts shines under the blue clear sky. It must take more than dozen if generations' hard working to created this miracle!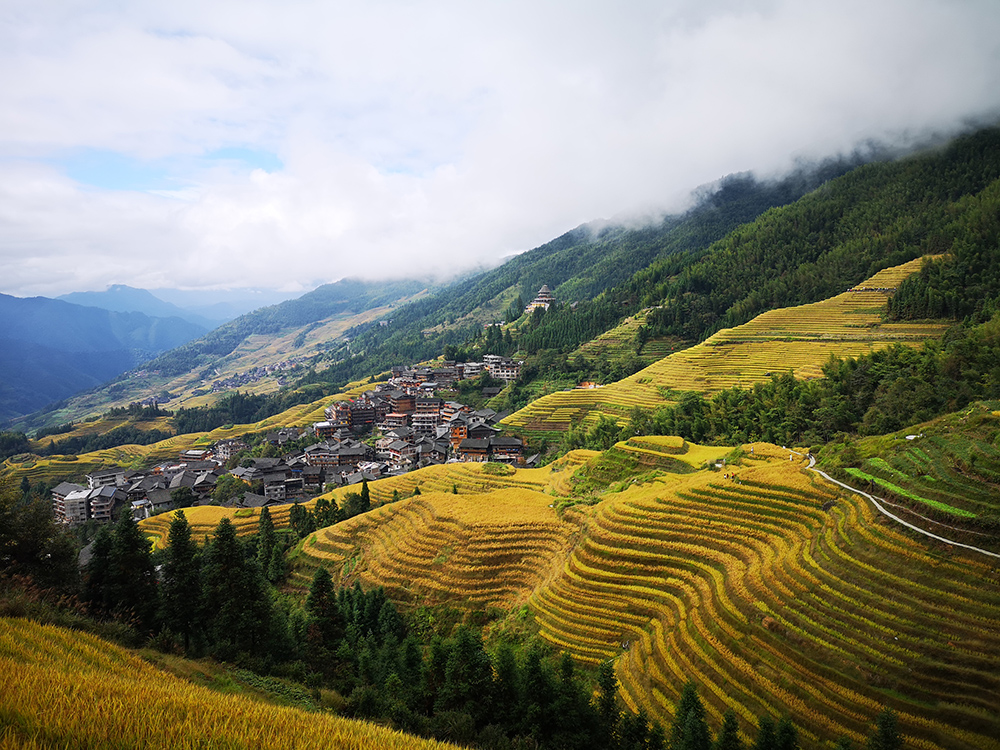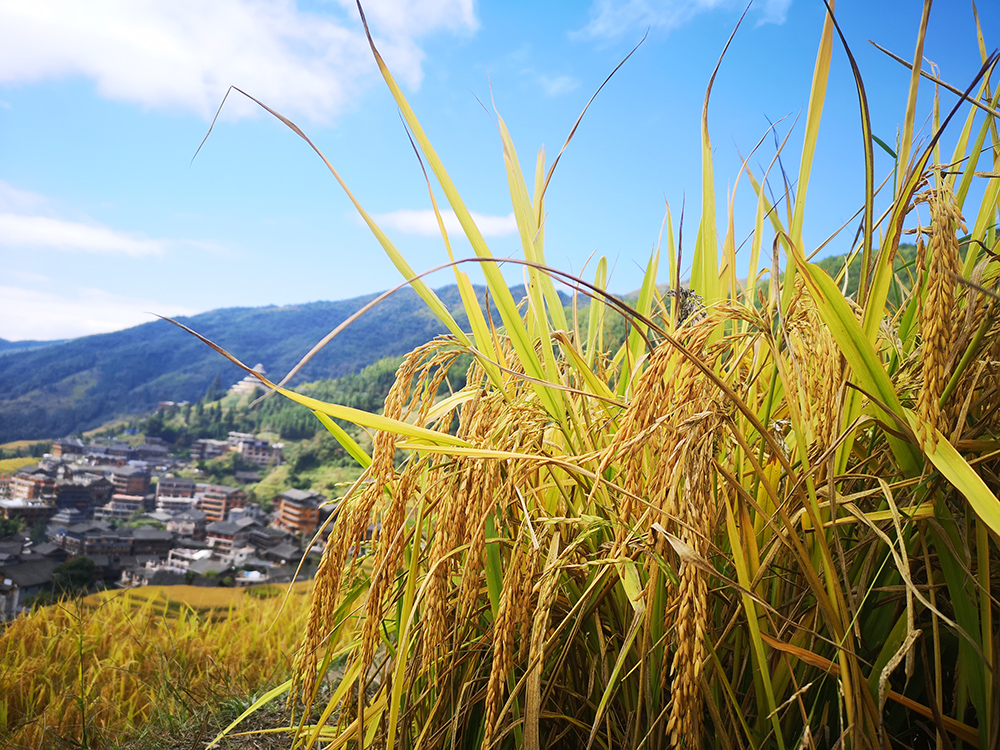 Afterwards, we went to Sanjiang, where the Chengyang Wind and Rain Bridge(程阳风雨桥) located. Constructed with wood and stones, the bridge surface is paved with wooden boards and both sides are inlayed with railings. The builders of this bridge did not use any nails or rivets. Instead, talented Dong people dove-tailed many pieces of wood. Though several decades old, it is still very sturdy. In a word, it is grand and looks like a brilliant rainbow crossing over the river.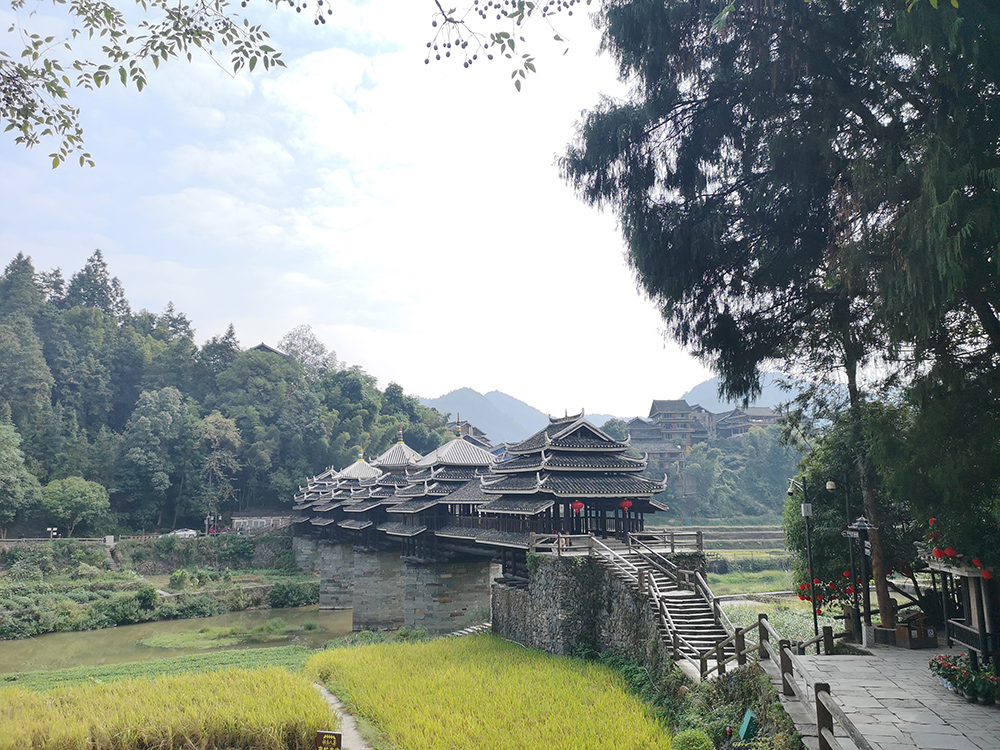 Then we went back to Guilin for our flight back home. We made our way to Reed Flute Cave(芦笛岩) before our flight. It is a typical Karst cave. Inside this water-eroded cave is a spectacular world of various stalactites, stone pillars and rock formations created by carbonate deposition.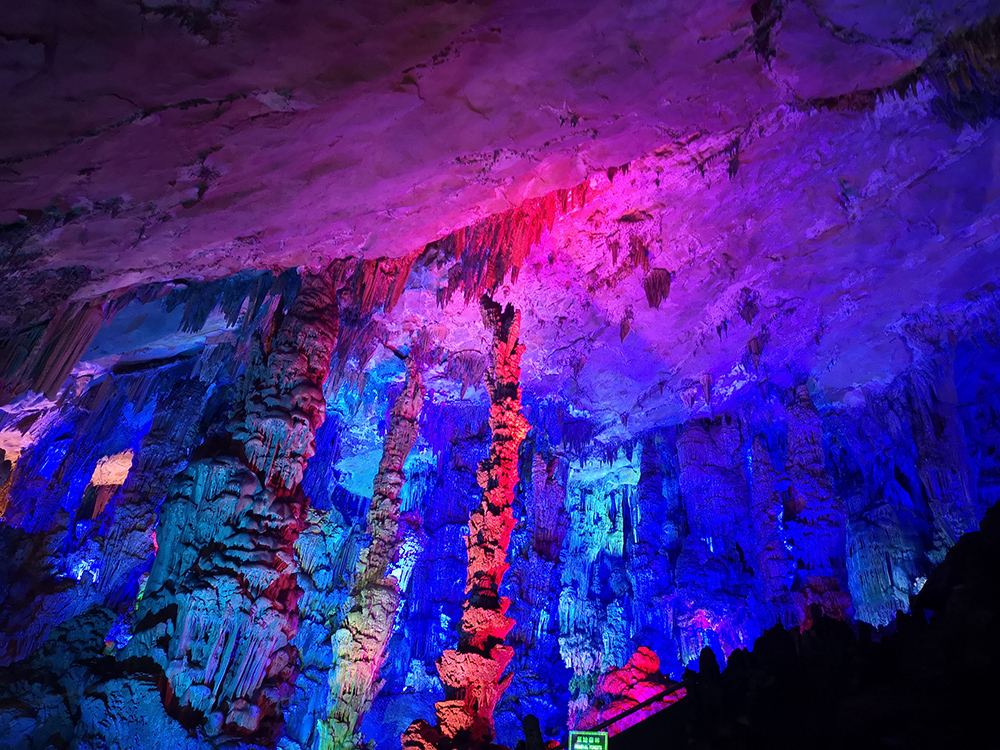 By Stella Ceoi -- Charmission Travel